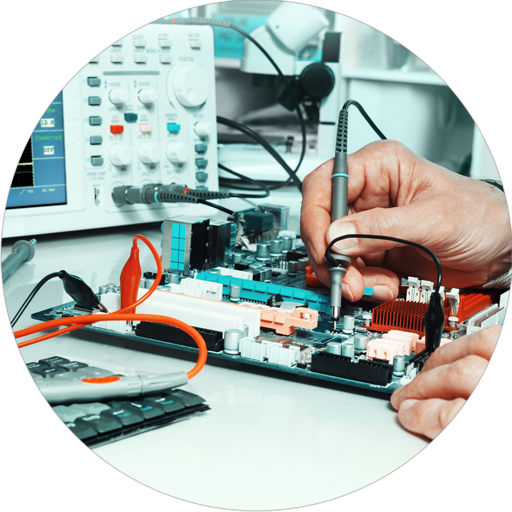 Electronics
The high-tech electronics department has been known for years for its capabilities and professionalism. The department provides field services for electronic faults, command and control malfunctions - for all industrial equipment. In addition, we hold an innovative electronics laboratory equipped with all the most advanced tools. It is within our capabilities to handle any malfunction of electronic cards, motors, power suppliers, drivers, controllers, encoders, central control cards, various control cards, I/O cards, temperature controllers, displays, screens and touch screens of all kinds: Alfa Robot, Apex, Arburg, Baumuller, Bosch, Campetella, Cincinnati Milacron, Engel, Fanuc, Heidenhain, Hitachi Seiki, Husky, Infranor, Keb, Krauss-Maffei, Manz, Mazak, Mitsubishi, Sepro, Siemens, Wittmann, Yaskawa, and more.

On-site Services
Our professional team will arrive to your site to diagnose and repair automation, control and electrical malfunctions in your machines and equipment. We commit to high availability and fast response times.

Ongoing Maintance
Monitoring, inspecting and performing preventive maintenance to ensure malfunction free production.

Spare parts
Replacement equipment is available during repair - to minimize downtime.

Free diagnostics
We will diagnose your malfunctioned equipment in our laboratory, free of cost and without obligation.

Extended warranty
We guarantee quality, and therefore give 6 months warranty for repairs performed by us.

High standards
Our electronics lab complies with ISO 9001:2015 standards.